You are here:
›
›
›
Versa
Maruti Suzuki Versa
Maruti Suzuki Versa Price (Ex-Showroom) : Rs. 3.5 lakhs-6.5 lakhs
Mileage: Data not Available
(Rating 4 Out of 5 Based On 12 Review(s))
Maruti Suzuki Versa Reviews
The Elegance of Maruti Suzuki Versa
The Maruti Suzuki Versa has the credit of being the ultimate value for your money when it comes to the need for an all Indian family car. There is a high powered engineering that is well complemented with spacious and comfortable interior and high performance air-conditioning. This is a car with a high roof and a better view of the road. This is also a car that can be safely called a tall man's vehicle.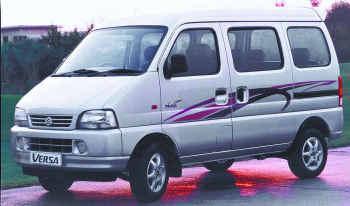 Maruti Suzuki Versa Description
The perfect way of describing the Maruti Suzuki Versa is that it is a multi utility vehicle. There is an inbuilt seating capacity for 5 to 8 people and it is a 5 door car. It has a relatively large boot space too. The interiors are spacious and equipped with plenty of safety measures. There is a molded carpet on the floor for a luxurious feel and comfortable upholstered seats for traveling pleasure. There is an air-conditioning that ensures all round cooling in equal spread for ultimate comfort. There is a large boot space and if you still need more space then the third row seat can be folded as well. The space between the first and the second row can be adjusted for suitable convenience and comfort.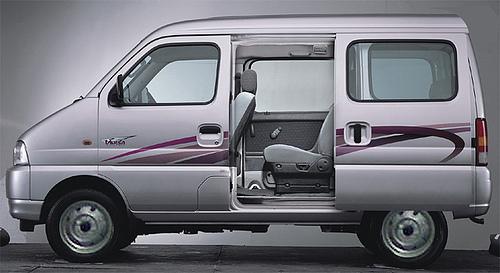 Maruti Suzuki Versa Models
The variants of the Maruti Suzuki Versa models are available in petrol versions. These are different in their seating capacities. There is a standard size model of the car along with two deluxe models – the DX and the DX2. These are available with seating arrangement options of five or eight people.
Maruti Suzuki Versa Colors
The Maruti Suzuki Versa comes in 5 different colors and each has a fine texture that can withstand different weather conditions and types. You will also be able to enjoy the gorgeous look of graphics that comes with the design of the car.
| | | | | |
| --- | --- | --- | --- | --- |
| | | | | |
| Superior White | Metallic Pearl Silver | Metallic Silky Silver | Metallic Icy Blue | Metallic Midnight Black |
Maruti Suzuki Versa Mileage, Average and Fuel Economy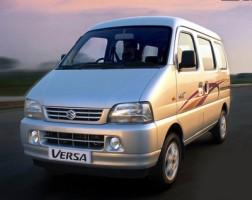 The high powered engine and the innovations of superior engineering also bring about a higher level of fuel efficiency and mileage for the Maruti Suzuki Versa. There is an approximate 11 kilometer to a liter on heavy traffic city roads and a 12 kilometer to a liter on highways. The average overall mileage is 11.3 kilometer to a liter.
Maruti Suzuki Versa Power
There is high powered 1.3 liter engine with a 5 gear speed in the Maruti Suzuki Versa. It can take up to a speed of 150 kilometer/ hour. There is a time of 13.6 seconds taken for a 0 to 100 kilometer per hour. There is a great steering control that is available even at a higher speed which makes maneuvering easier and far more comfortable.
Maruti Suzuki Versa Acceleration and Pick Up
There is a higher power to weight ration in the model variants of the Maruti Suzuki Versa. This enables a smoother acceleration to top speeding limits and an enhanced pickup. To reach a 0 to 60 km/ hr level of speed the car will take approximately 6.26 seconds.
Maruti Suzuki Versa Exterior Appearance
There are opinions that the exterior looks of a Maruti Suzuki Versa is not that of a stunner. However there are plenty of others that have opted for it who believe that there is more to its exterior than that meets the eye. This is a five door multi utility van that is easy to access and comfortable with a strong and well built chassis and body structure. There are body bumpers attached in matching body colors and there is also an inclusion of graphic paints. There are strong headlamps that provide a strong coverage for lights. There are rearview mirrors that are outside on both sides of the vehicle and front wiper. There is a use of radial tyres with wheel hub caps. All window glasses are tinted.
Maruti Suzuki Versa Exterior Measurements
The length of the Maruti Suzuki Versa is 3675 mm and the width of the same is 1475 mm. there is a height of 1905 mm and a wheelbase of 2350 mm. the car has a ground clearance of 155 mm and a turning radius of 4.5 mm.
Maruti Suzuki Versa Interior Appearance
There is a spacious interior design that comes with the Maruti Suzuki Versa. and there is a state of the art arrangement of luxurious facilities in the car as well for passenger luxury. All seats have inbuilt seat belts and are comfortably upholstered in choices of fabrics and leather. There are child proof locks on sliding doors and windows. There are impact beams at the sides and in the front along with a collapsible steering column to reduce injury in impact.
There is plenty of convenience planning for you and your family travels within. There are inbuilt cigarette trays and lighter. There is a vanity mirror placed at the co-driver seat. There are front door pockets for storage and an arms resting place as well. all seats have head rests and with added advantage of reclining and sliding for the front seats. There is a molded floor carpet to provide a luxurious flooring comfort. There are lamps within the car at the front and at the rear to facilitate reading and convenience.
There is a uniform cooling air-conditioner available in the car and a heater too for all seasons and requirements. All windows are power controlled and there is a central locking system for all the 5 doors of the car.
Maruti Suzuki Versa Interior Comfort
There is plenty of comfort in the cushioned seats and layered molded carpet of the inlay of the Maruti Suzuki Versa car. You will also be able to indulge in plenty of leg space comfort especially on long distance travel. There is a adjustable space possible between the first row and the second row of seating as also between the second and the third row of the same as per requirements.
There is a uniform cooling of the air-conditioning and the performance of a superior quality suspension provides a jerk free travel time.
Maruti Suzuki Versa Engine Capacity and Performance
There is a 1298cc engine that comes with the Maruti Suzuki Versa along with 4 cylinders and 16 valves. It can bring forth a maximum power capacity of [email protected] rpm. There is a torque of 102nm @ 3000 rpm. There is a16 bit Engine Management System that ensures a fast and flawless performance of the car at all speed levels. You will have a fuel capacity of 48 liters. There is a Macpherson strut front suspension with torsion roll control device and a rear suspension of soil spring with three link rigid axle and isolated trailing arms. It promises a smooth drive even on uneven roads and topographic undulations.
Maruti Suzuki Versa Wheels
The wheels of the Maruti Suzuki Versa are 13 inch tyres 155/80 steel radials. The wheel size is 4J by 13 inches. The configuration of the tyres is 155/ 80 R 13 LT. they provide a strong and constant grip even through tough driving tracts.
Maruti Suzuki Versa Braking and Handling
There is a higher ratio of power to weight in the structure of the Maruti Suzuki Versa which ensures a smooth handling of the car. This also facilitates a quicker pickup of speed and acceleration. The availability of electronic power steering enables better control of the car at higher speed limits and also an ease of driving. It also proves to be less taking on the engine.
There is a noiseless performance of the petrol engine that makes traveling far more relaxing as compared to other makes of multi utility vehicles.
Maruti Suzuki Versa Handling and Safety
There are plenty of safety measures and protective facilities enabled in the making of the Maruti Suzuki Versa. The safety of children is considered specially wit child lock systems for all doors and windows. There are height adjustable head restraints available in every seat along with seatbelts. There is an inbuilt side impact absorbing beam available on all the doors of the car. The car is empowered with highly functional 198 mm frontal ventilated disk brakes and 220 mm drum brakes at the rear. It makes for extraordinary halt capability at all positions. There is also a collapsible steering column that will reduce injury on impact.
Maruti Suzuki Versa Stereo and Accessories
There is an impressive dashboard in the Maruti Suzuki Versa with inbuilt music system and radio. There are other provisions with which you can also employ the services of a modern GPS or even a TV in the car for full scale entertainment. But this is an up-gradation that is available as an added feature and option.
There are other accessories that are also added on request. You may affix cup holders and storage pockets. There are grip handles that are also a standard feature of the cars and are available. you can also place foot rests for added comfort.